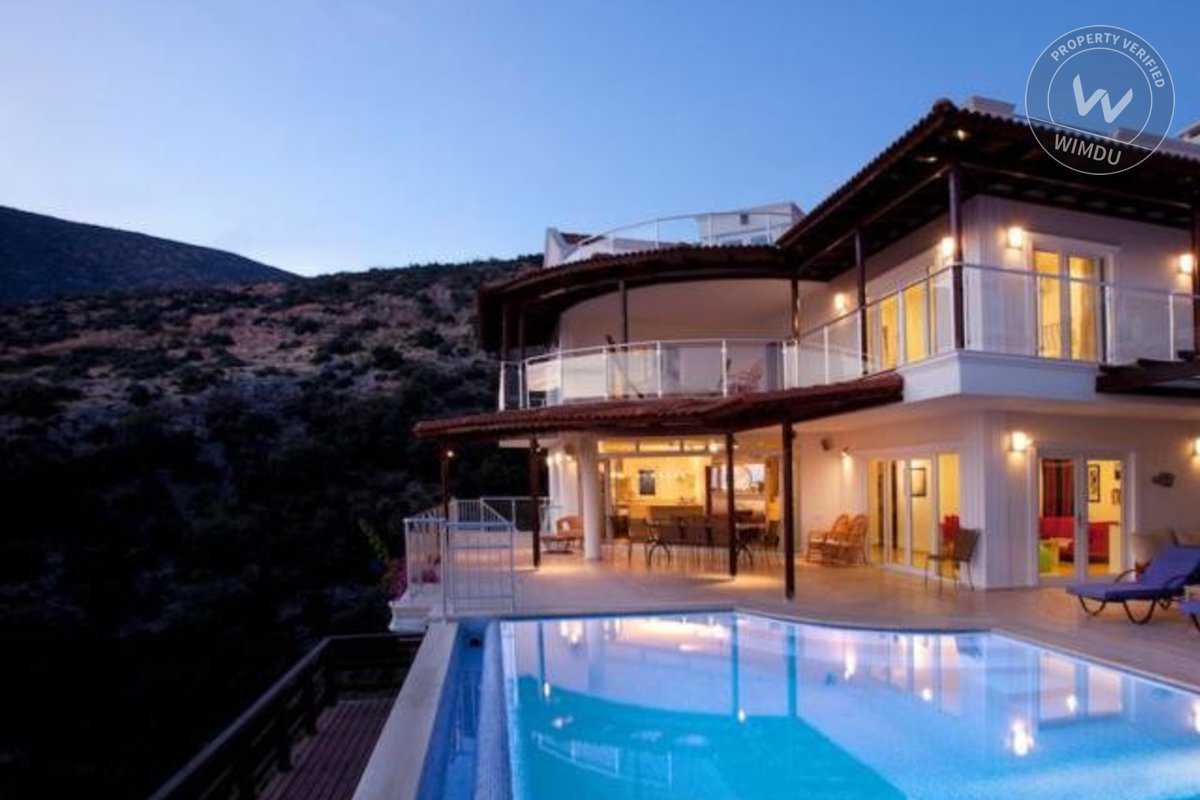 Nestled along Turkey's gorgeous Lycian coast is the picturesque town of Kalkan. Coupled with views of sprawling seaside hills, visitors keep returning here year after year. Situated on a beautiful bay, it offers something for every price point, from small apartments, to luxurious villas complete with infinity pools and expansive views. Unlike other tourist towns along the coast, Kalkan is pleasantly free of large, all-inclusive resorts. Instead, more personal, private accommodation is offered for a more authentic experience. Fans of history will love being immersed in Lycia, a region that has been continuously inhabited from at least 1500 BC. In that time, it experienced independence, and was ruled at one point or another by the Greeks, the Persians, the Romans, and the Ottomans.The town has retained a lot of architecture from those times, which give it a distinct vibe everyone loves! Kalkan has great charm to it, because of this there has been a growing number of perennial visitors who say the Kalkan is the only holiday destination they would choose to visit repeatedly.
Where to Stay
By booking Kalkan villas through with Wimdu, you can take a lot of money you might normally spend on a hotel and invest it in local activities or travel along the coast to Kas. Private rooms, full apartments, and incredible villas are all available for every budget. Experience the local vibe by staying amongst the inhabitants of this historic town. Stay in a central apartment close to the harbour, the beach, and the town's many restaurants. Or, if you prefer, try one of the many incredible villas, which run up into the hillside and offer pools and extensive patios overlooking the blue waters of the bay. If you are planning a trip along the Lycian coast, be sure to also check out our other accommodation in towns like Fethiye, Kemer, and Kaş.
Fun Facts!
The locals speak a unique dialect of Turkish quite different from the standard language. Don't worry, though, in most of the area English should be just fine.
Kalkan averages 300 days of sunshine a year!
The town still has a number of abandoned Greek houses from their exodus in the 1920s.
The ruins at Xanthos and Letoon are a UNESCO World Heritage Site.
Things to see and do
Kalkan's biggest attraction is probably its pristine ocean and small, but beautiful beach. It is a pebble beach, but don't let that deter you. It is a great place to relax and swim in the bright turquoise water. Walking through Kalkan, guests will pass lovely apartments with cascading and colourful bougainvillea's. Of course, the beautiful seaside town also has a beautiful harbour and docking points for all kinds of boats. Head down to the harbour and charter a boat for a romantic cruise, or just for some fun on the water. Kalkan is also home to over 200 restaurants, serving every taste and budget. From very simple and wholesome Turkish food to sophisticated meals under the stars, eating in Kalkan is always a pleasant experience. If you would prefer to eat in then you can always cook in your self-catering apartment or villa. Those looking for nightlife won't find much of a club scene here, but there are a number of great bars offering dancing and more subdued parties.
The local area is replete with ancient ruins that are well worth exploring. Rent a scooter and ride up and down the coast, visiting these sites along the way. Xanthos and Letoon are a 40 minutes' drive away, and both Demre and Tlos can be reached in under an hour. Take a dolmuş (traditional shared taxi) to the massive and beautiful Patara Beach, famous for its conservation efforts based on protecting the local sea turtle population which lays its eggs on the beach. Experience the magical nautical flora and fauna of the ocean with companies offering scuba diving training and trips in the crystal clear waters. The town of Kaş is a 30-minute drive away. It is also a popular spot to dive and is home to 2 weekly markets, as well as a number of high-quality artisan shops. Take a short ferry ride from Kaş to Greece's easternmost island of Kastellorizo and enter the stunning blue cave, which when hit right by the sun, is flooded with a dazzling blue light. Other activities in the region include snorkelling, cannoning, sea kayaking, paragliding, truck safaris, and hiking.
Getting Around
Kalkan is relatively small and quite easy to get around. We recommend renting a car or a scooter (scooters are easier to navigate through the winding streets!) when visiting. This way you can explore the town and neighbouring towns at your own pace. There are public buses available to take you to other towns and services are regular and efficient. Because of its small size, your apartment or villa will always be reachable wherever you are in KalKan.