The Dutch capital of Amsterdam is a hugely popular tourist destination that is full of exciting things to see and do. It attracts plenty of young people from all over the world whose imagination is captured by the elegant canals, quirkily designed buildings and laidback atmosphere. There's something to do at all times of day, and whilst it's great fun it's not always good for your budget!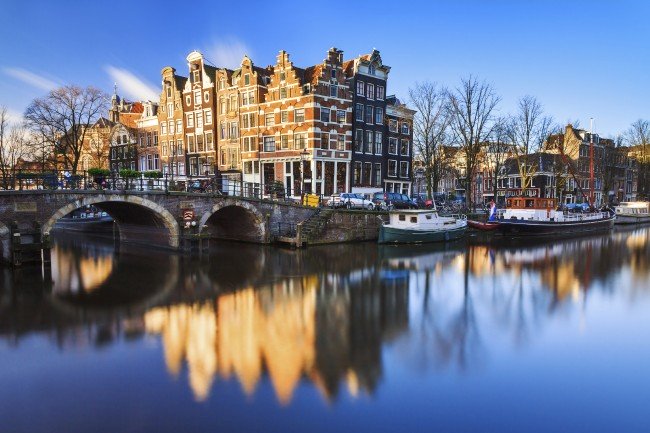 Those hoping for a cheap break in Amsterdam are in for a surprise as the city can be notoriously expensive. Savvy tourists however will find things to do in Amsterdam that won't break the bank and plenty of fun that won't cost anything at all! Read our guide to make some great savings when you visit Amsterdam.
Getting to Amsterdam cheaply
Schiphol Airport is Europe's fifth busiest airport and a major transport hub for international flights to the Americas and Asia. Cheap flights to Amsterdam are available from most major airports in the UK. Booking several months in advance will obviously save you money – a good price for flights to Amsterdam is around £50 return. Check out the MoneySavingExpert's cheap flight checker for an authoritative guide to finding cheap flights.
Flying to Amsterdam is not the only option! Good deals can be found on ferries and buses. If you fancy a spontaneous trip to the city then it often works out cheaper to book a ferry from either Hull or Harwich. Ferry tickets are available from £49 each way!
Travelling with luggage can certainly prove expensive if flying, but if you have the time then travelling by bus to Amsterdam can be much cheaper. You can take as much luggage as you can carry – you don't have to worry about excess baggage fees! Tickets can cost as little as £30 one-way.
A Eurostar services operates from London to Amsterdam – the journey takes just over 4 hours. It is also possible to find to cheap trains to Amsterdam if you book far enough in advance.
Getting Around Amsterdam
Navigating the city by bike is by far the easiest and most fun way to get around Amsterdam. It's not only a pleasure to experience the city as a local would, it's also cheap! One of the most popular bike rental outlets is Mac Bike, which offers bikes from €7.50 for 3 hours and €9.75 for a 24-hour period.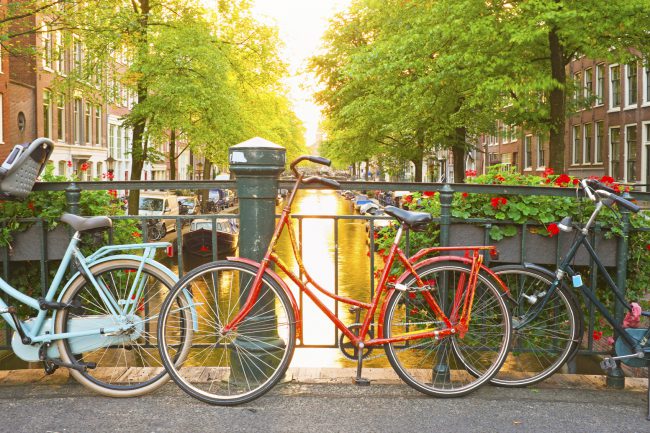 Another way of travelling through Amsterdam cheaply is by using public transportation in the city. A day ticket from GVB is available for only €7,50 and provides unlimited travel by metro, tram, and bus.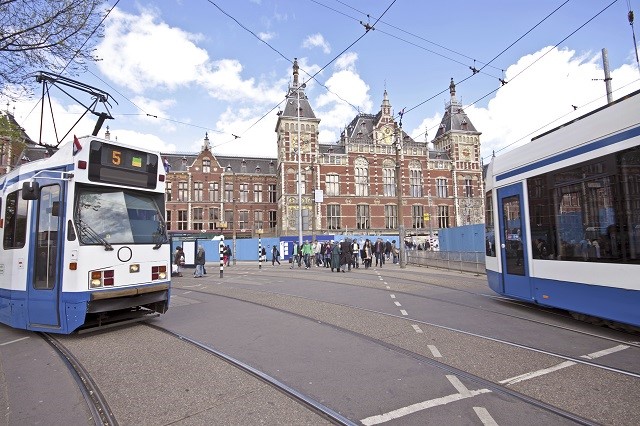 Staying In Amsterdam Cheaply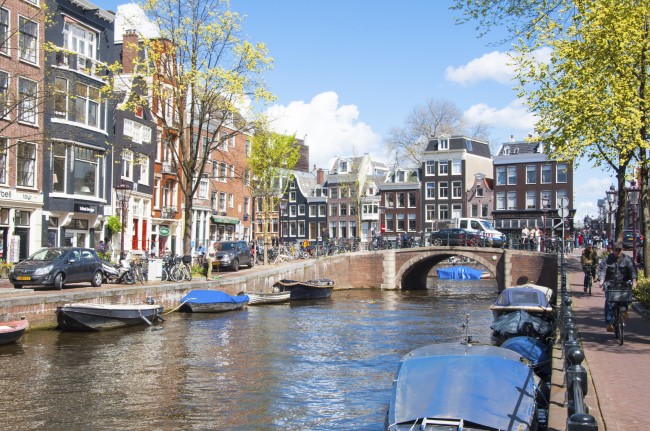 Did you know that the Netherlands is the world's 5th most densely populated country? The Randstad area, known as a 'megalopolis', stretches from Amsterdam to Rotterdam and includes most of the country's major industries and business. The design of Dutch houses also gives you an indication that space was even at a premium in the past. They are compact, neat and their staircases are extremely steep! They are also inventive when it comes where to put a toilet in an apartment – sometime's it resembles little more than a cupboard under the stairs!
Why are we telling you this? It's because Amsterdam is quite an expensive place to stay in! Space is at a premium and you'll find it hard to find good value accommodation. Take a look at Wimdu's wide range of cheap apartments in Amsterdam. You'll find trendy loft spaces, family homes and cosy apartments.
Free tours of Amsterdam
There are numerous companies offering free tours of Amsterdam's historic city centre. Generally speaking, the tours tend to cover the city's infamous Red Light District, the Jewish Quarter and through the elegant Jordaan district. One of the most famous tour companies is operated by Sandemans. Their tours last 3 hours and begin at the National Monument on Dam Square. Another great free tour provider is Freedam Tours.
Free Things to do in Amsterdam
You'll be pleased to know that there's lots to see and do in Amsterdam that won't cost you anything! Take a stroll through Amsterdam's Albert Cuyp Market market and discover the 'real' Amsterdam. You'll find stalls selling Moroccan tea, Surinamese spices and Dutch flowers – it's truly a sensory experience and it won't cost you a Euro (that's if you aren't tempted to treat yourself).
You might be surprised to learn that behind Amsterdam's Centraal train station there is a free ferry stop offering connections to a very different part of the city. The NDSM-Werf arts community, housed in a derelict shipyard, is just 15 minutes by ferry from the station. Take a walk through the district and admire the recycled sculptures and works of art.
Another great free thing to do in Amsterdam is to visit the permanent exhibition at the City Archives. The collection contains a quirky selection of mementos and artefacts which tell the history of the city.
Amsterdam is dotted with 'hofs' (tranquil inner courtyards between houses) which aren't always noticeable from the street. Heaving back a thick door can reveal a peaceful oasis away from the hustle and bustle. One of the city's most famous hofs is the Begijnhof. Dating back to the 14th century, this is the perfect place to relax with a book or admire the architecture – all for nothing!
Eating out on a budget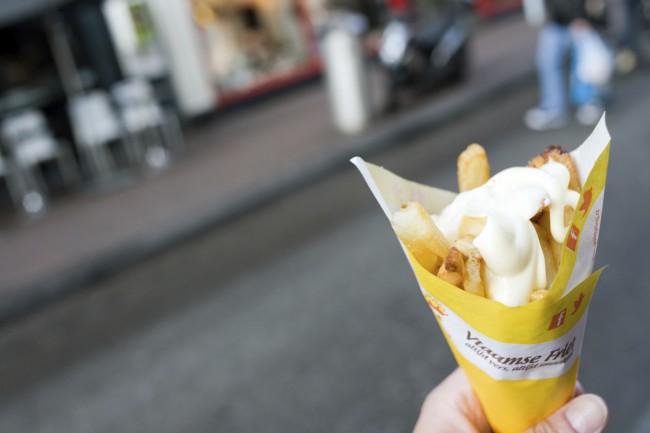 It's entirely possible to find tasty and good value bites to eat in Amsterdam if you look hard enough, but save yourself some time and take our advice!
FleminckX Sausmeesters
Chips (or 'frieten' as they're known in The Netherlands) are extremely popular and you'll find many food outlets throughout the city offering cones of frieten topped with delicious toppings. Our favorite spot is FleminckX Sausmeesters where they offer the best frietjes together with delicious sauces. Try the green pepper sauce or the Dutch classic 'frietje speciaal' (a topping consisting of mayonnaise, ketchup and raw chopped onion).
Maoz Falafel
Maoz outlets can be found throughout The Netherlands offering cheap and healthy snacks to Dutch people. There is one located on Leidsestrasse and you can get a sizable falafel sandwich (plus 'all you can eat' salad) for €5.
Wagamama
Wagamama is a restaurant chain that started in London. They serve tasty Asian dishes for a fair price. There are four Wagamamas to be found in Amsterdam where you'll be served delicious soups, rice or noodle dishes, dumplings and freshly squeezed fruit juices. One of their most famous dishes is the Chicken Katsu Curry which is now also available in the vegan variant, Yasai Katsu Curry. Don't forget to order a cup of green tea to go with your dish.
Restaurants along the Korte Leidsedwarsstraat
You'll find heaps of choice in restaurants along this narrow street. It's extremely geared toward Amsterdam's visitors but that's not to say it's neither tasty of good value. Take a stroll down the street and keep your eye open for 'Happy Hours', 'early bird' specials and decent prices. During summer, many of the restaurants have outdoor seating so you'll be able to get an idea what people are enjoying and what you get for your money.
Spend lunch…in the park!
Dutch lunchtime snacks are fantastically varied. Step into the nearest supermarket and stock up on some 'kipkerrie' (chicken-curry dip), some cumin flavoured Gouda cheese and some freshly baked bread. Then head to one of Amsterdam's many parks (we recommend Vondelpark) and dine al fresco!
Going out on a budget
Like when hunting for a restaurant, it's also worth looking out for bars offering happy hour prices on drinks. A pint of beer can cost anything from €4-7 euros in Amsterdam and if you're on a tight budget it certainly pays to be vigilant. For helpful suggestions on where to find happy hours across the city, visit Amsterdamlogue's page here.
If you've rented your own apartment in Amsterdam, then why not consider saving money by enjoying a drink at home? Alcohol in Dutch supermarkets is very reasonably priced – or during summer, join the locals and take a drink with you to Vondelpark or along one of the many canals and soak up the sun and atmosphere!
Free Apps for Amsterdam
Ulmon Amsterdam Travel Guide + Offline Map
This incredibly handy app doubles up as both a map and a travel guide. Discover interesting places then save the location on your map for later use. One incredibly useful feature of this app is the GPS function which will show your location without requiring you to use costly data. You'll never be lost with this app!
Amsterdam Transport Map
This convenient metro, bus and tram map of Amsterdam means you'll never have to decipher complicated timetables or worry if you're going in the wrong direction!
Amsterdam Travel Guide by Triposo
Want good suggestions and tips for getting the best out of your time in Amsterdam? Triposo's Amsterdam Travel Guide offers smart suggestions as well as offline capability – you'll be able to find the city's best kept secrets in no time!
Schiphol Amsterdam Airport
Travel stress free to and from Schiphol Airport with this handy app. Get regular updates on departures and arrivals as well as reserve a parking space. The app also offers a useful map for finding your way to the correct gate.
A Gastronomic Journey in Amsterdam
Fancy a GPS-guided audio tour of Amsterdam's top culinary sights? Wander along the city's most picturesque whilst building up an appetite for typical Dutch specialities such as raw herring, smoked beef sausage and Dutch cheese.
So now you know all about how not to burn a hole in your pocket in Amsterdam, what are you waiting for? Amsterdam's an enchanting place to visit all year round – you'll have a completely different experience visiting the city during the winter season to a trip in summer time.
For all the most convenient apps for Amsterdam, take a look at the overview on iAmsterdam.
Want to find out more about where to stay in Amsterdam? Take a look at our guide to the top districts and what they have to offer.