Each destination in Europe has its own individual flair. Nevertheless, they all have one thing in common: they all offer a spectrum of free attractions and activities. Regardless of which city or country you're travelling to, sightseeing is one of the main draws. You're bound to find a wide range of popular and intriguing attractions to visit. From historic museums and palaces to castles and cultural events, Europe has it all.
Amongst the continent's most popular destinations you'll find metropolises such as Rome, London, Stockholm and Madrid. All of them feature well-documented tourist attractions. The goal of most holidaymakers is to see as much as possible during their short time in a city. However, sightseeing often comes with a hefty price tag in the way of entrance fees.
The leisure activities on offer in European cities are wide and varied, leaving little to be desired. But what is there to do when you're on a tight budget? Can you experience a lot in Europe for little money? The answer is a resounding yes. Almost every city in Europe has some free attractions on offer that should be considered unmissable. In this infographic, we outline twelve noteworthy highlights out of a long list of free attractions on offer.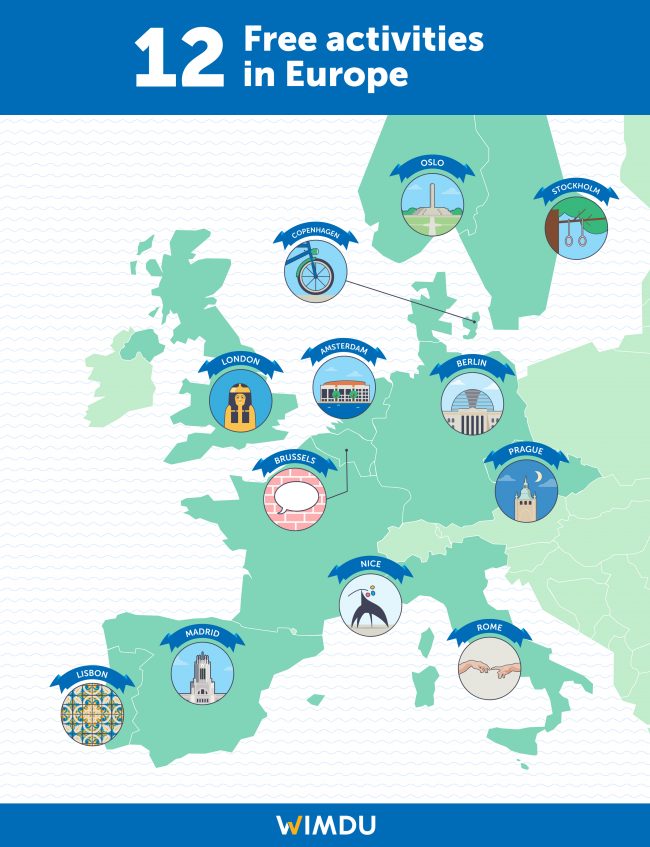 London: the British Museum
London offers a large number of world-class museums and galleries with free entry. Nevertheless, the British Museum stands out as one of the best. It offers a wide-ranging insight into the cultural history of humanity through a vast array of collections. The museum is home to around 8 million artefacts. There is perhaps too much to see in just one trip. When entry is free, however, there's incentive to visit more than once if you have the time. The British Museum is open daily from 10 am to 5.30 pm.
Brussels: Take a comic book tour
Are you interested in walking in the footsteps of your favourite comic book heroes? What better place to visit than Brussels? The free-of-charge comic tour takes you through various facades painted with popular European comic book heroes. From Tintin and Lucky Luke to Asterix and Obelix, you can admire around 40 colourful character murals.
Nice: Museum of Modern and Contemporary Art
The thrilling and intriguing Museum of Modern and Contemporary Art (MAMAC) in Nice has something for everyone. It's not just for art enthusiasts. In the modern building, which features a marble foyer, visitors can peruse collections boasting works by artists such as Andy Warhol and Yves Klein, as well as a wide range of other exhibitions that take up the 4,500 square metres of gallery space. Admission is free, and the museum is open daily from 10 am until 6 pm. The building also features a large roof terrace, which offers beautiful views of the surrounding area.
Madrid: Take part in a free guided tour
The fact that Madrid has a magnificent selection of sights and attractions is well documented. But what about the history behind the city's most famous buildings? Madrid offers free city tours where you can learn all kinds of interesting facts about the historic Spanish city. The tour lasts around three hours. It begins every day at eleven o'clock at the Statue of the Bear and the Strawberry Tree in Puerta del Sol Square.
Rome: visit the Vatican Museums
The world famous Vatican Museums are one of the most popular tourist destinations in Rome. The museums are located within Vatican City and boast a large collection of rare artefacts and masterpieces. Within the elaborate galleries, you can admire works by artists such as Michelangelo, Leonardo Da Vinci and even Van Gogh. Admission is free on World Tourism Day and on the last Sunday of each month.
Oslo: take a relaxing walk around the Sculpture Park
For nature and art lovers, the beautiful Norwegian metropolis of Oslo holds a very special attraction: the Vigeland Sculpture Park. The complex features more than 200 sculptures made by the famous artist Gustav Vigeland. It is located on the grounds of the Frogner Park and can be enjoyed while taking a relaxing leisurely stroll. Entrance to the park is free of charge.
Amsterdam: enjoy a free concert
The Dutch capital offers so much more than beautiful canals, great artwork and a seedy red light district. In the bohemian haven that is Amsterdam, you can enjoy many a free concert throughout the year. On Tuesdays at 12.30 pm, live music enthusiasts can enjoy a free show at the Musiktheater. At the same time on Wednesdays, free classical concerts are held at the Royal Concertgebouw Concert Hall. You can also attend the Sunday Night Jazz night in the Badcuyp from July to August, also free of charge.
Lisbon: Sundays at the Museum
Visitors to Lisbon have a lot to look forward to. Many museums offer free entry on the first Sunday of the month. These include internationally renowned venues such as the Museu Nacional de Arte Antiga, the Museu Gulbenkian and the Museu Nacional do Azulejo. The Museum of Design and Fashion (MUDE) and the Museu Coleção Berardo can be visited free of charge every day.
Berlin: Visit the Reichstag Dome
If you want to visit Berlin attractions for free, the Reichstag Dome should be at the top of your list. It is one of the most famous attractions in the capital. The Reichstag Dome offers visitors both panoramic views of the city and a look at where the German parliament works. Visitors have free access to the roof terrace and dome of the building, though registration is required.
Stockholm: Fitness outdoors
Fitness enthusiasts will fit right in in the Swedish capital, as there's a wealth of outdoor sporting activities on offer. If you wish to keep fit during your holiday, you can practice alone or with other people in the "Utegyms" at different locations, all completely free.
Prague: Visit Prague Castle
Prague Castle is one of the most famous sights in the city. It is officially the largest castle in the world, with the Saint Vitus Cathedral and Golden Lane included. In total it attracts more than one million visitors each year. The site offers free access, and admission is only required if you wish to view the interior.
Copenhagen: Cycling
If you get tired of going around only on foot, you can simply swing into the saddle and set off on a bike in Copenhagen. Bikes can be borrowed at a number of locations in the city for a small deposit. If you return the bike to the park after riding it, you will receive a refund of your deposit.
If you're looking for a great place to stay then you'll need to make sure that you're able to get the best deal possible in whichever European city you decide to visit, whether in England, France, Italy, the Netherlands or elsewhere. Those willing to take part in the range of free activities on offer can experience a lot in the way of city life while saving money.
The holiday can be even cheaper when you stay in Wimdu accommodation. Here's a great selection of apartments and rooms for every taste and budget. Simply choose a destination, book your accommodation and discover the world with Wimdu!
Other useful tips on how to enjoy European travel on a tight budget can be found in our articles "Visiting Amsterdam on a Budget" and "Freebies: Free Activities in Berlin by U-Bahn". It's worth taking a look!