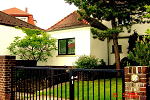 Dresden is the capital of Saxony and is one of Germany's most interesting and pretty cities to visit. Loved by both Germans and tourists from further afar, Dresden has confidently and proudly picked itself up after the battering it received in World War 2 and modern Dresden is as beautiful as the city ever has been. Dresden is divided into two distinct parts by the River Elbe which is the fourth largest river in Europe. These two parts are called the Altstadt (old town) and Neustadt (new town). The Altstadt is where the city's historic buildings and major shops are located and the Neustadt is where the city's student population reside - many intriguing and alternative cafes and bars can be found here. Wimdu have a wide range of holiday apartments in Dresden as well as pensions and guest houses - find your perfect city-break accommodation today!
Fun Facts about Dresden
Dresden is located in what was known as the Valley of the Clueless during the Cold War because the surrounding mountains made it impossible to receive West German radio!
The bra, toothpaste and the paper coffee filter were all invented in Dresden! What a practically minded city!
Composers Bach, Wagner and Schumann all wrote and lived in and around Dresden and the Saxony area
European porcelain was also invented in Dresden – 300 years ago!
Where to Stay in Dresden - Holiday Apartments, Pensions and Guest Houses
Try and get yourself a holiday apartment in the centre of Dresden, either in the Altstadt or the Neustadt. That way you will be able to walk home safely and easily after a night out. Wimdu offer a range of pensions, guest houses and other accommodation in these areas, and you can search for extra bedrooms, en-suite bathrooms, children's facilities or whatever you need to make your home from home as perfect as possible!
Things to do in Dresden
Dresden has much to offer tourists – from beautiful architecture in the old town to hip bars and restaurants in the Neustadt area. You should begin your trip with a walk around the Altstadt - the prettiest area of the city. The Frauenkirche is the city's most famous cathedral and it's been faithfully restored to its former glory in the past 20 years. The Frauenkirche is the set piece of Dresden's old town and surrounding it are many beautiful and quaint streets. It's sometimes hard to believe that such streets are in fact relatively newly built, they have been restored so wonderfully. The Semper Opera House is another impressive pre-war building that has undergone restoration following Germany's unification. The opera house hosts numerous world famous operas and you can take a guided tour by day of the building to witness its splendid decor. Walking around the Altstadt is a real treat and there are numerous cafes and restaurants down the small side streets. Make sure you find the Procession of Princes, a 394 foot long mural depicting a parade of Saxony rulers – it's impressive!
Walking through the Altstadt will eventually take you to the grand banks of the River Elbe. Several impressive bridges will take you across the river to the Neustadt area – formerly a poor area of the city but one that is now thriving and popular with students and young people. It has quite a different feel to the Altstadt and you'll find some of the city's best bars and restaurants in this area. We recommend AnTon and Bautzner Tor – two great bars serving tasty local beer. The Neustadt area has a certain bohemian spirit to it. The area managed to stay relatively intact during the war and there are many interesting buildings throughout the area. It is reminiscent of parts of Berlin and certainly shares some of the bohemian spirit of Germany's capital.
Museums in Dresden
There are several impressive museums in Dresden worth checking out. The Green Vaults is the most popular museum and houses a very impressive and often overwhelming collection of precious stones, rare artifacts and sculptures. The Militaerhistorisches Museum is also popular and focuses on many aspects of military history over four floors. The Old Masters Picture Gallery (Gemäldegalerie Alte Meister) is worth visiting too and has an engaging collection of paintings originating from between the 15th and 18th centuries. The gallery includes important Dutch, Flemish and Italian works of art and is located in the Semper Museum in Dresden. The Albertinum Museum is home to the New Masters Picture Gallery which displays works from the romantic period up until the present day. It's considered one of Germany's most important museums!
Eating and Drinking in Dresden
Where's tasty to eat in Dresden? Well we can recommend PlanWirtschaft which is loved by locals. Each dish is made using local ingredients, the staff are friendly and the cosy brick cellar area of the restaurant is a delight to sit in – find it on Louisenstrasse in the Neustadt area. Raskolnikoff is another great place to go in the same area. On the Theaterplatz near the river in Dresden's Altstadt is Alte Meister, a chic café by day and a nice restaurant at nighttime. They have a seasonal menu and despite opening in 2002 already feels like an institution in Dresden – check it out! Wander around the Neustadt and you'll find a great selection of bars serving an even greater selection of German Bier!
Getting Around
Dresden's airport, Dresden-Klotzsche Airport, is situated to the north of the city and has connections with major cities such as London, Moscow and Zurich as well as German cities such as Cologne, Stuttgart and Munich. Take the over ground S-bahn train from the airport into the city – the journey takes 20 minutes. Getting to Dresden from other German cities is straightforward and there are many connections available from nearby cities such as Berlin, Leipzig and the nearby Czech capital of Prague. The quickest way is by train although you will find this an expensive way to get around Germany. There are cheap ways of riding to Dresden by train and we recommend the Schönes Wochenende weekend travel ticket which allows groups of up to 5 people travel anywhere in Germany for 42 euros on local (slower) trains. Traveling by bus to Dresden is also possible and the BerlinLinien bus company has 8 buses running between Berlin and Dresden daily.
Once you're in Dresden you'll be pleased to know that it's possible to walk from the bus and train stations to all the major tourist spots. Dresden is quite a compact city and a tram and bus system neatly connect both parts of the city. Dresdeners prefer travelling by bike through the city and there are several bike hire places in the city where you can obtain bikes from, so you'll easily be able to explore the city from your guest house or pension.