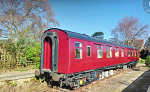 Whitby is a lovely and lively town situated on the north coast of Yorkshire county. Famed as the birthplace of the explorer Captain James Cook, and where he began his seafaring career, and it is also the place which inspired Bram Stoker to write his famous novel Dracula The town features in the book as the port at which the notorious vampire first landed in England. St. Hilda´s Abbey, which overlooks the town from its location on the East Cliff, was first founded back in the 7th century. After being raided and damaged numerous times over the centuries it was finally abandoned altogether. The ruins lie at the top of 199 steps cut into the cliff face that lead down to the town. The best time to rent a cottage in Whitby is probably in summer, when there will be less chance of bad weather on the moors which could prevent access to the town. If you're looking for a scenic town to stroll on the moors, relax with a pint and a pie, and soak up the historic haunted atmosphere, then Whitby is the place for you!
Where to Stay in Whitby
Whitby is a medium-sized town and it is easy to navigate on foot or using the town's bus services, so as long as your holiday accommodation is in the town's boundaries you will be fine to get around. If you want to stay in one of the larger family cottages a little further out, you will probably need a car. Booking your self-catering rental or bed and breakfast via Wimdu is easy and means that you can search for exactly what you need - whether that is children's facilities and extra bedrooms for a family holiday, or an en-suite bathroom.
Fun Facts about Whitby
The name Whitby comes from "Whiteby" which means "white settlement" in the Old Norse language
Whitby jet, a black mineraloid found in the cliffs around the town, was favoured by Queen Victoria for jewellery she wore during her mourning.
Well preserved ammonite fossils can be found in the area, and many shops in the town sell them
Whitby hosts the twice yearly Gothic Weekend, which caters to the gothic subculture
Wimdu have a converted railway carriage that you can rent out in Whitby! It sleeps up to six people! An interesting alternative to a holiday cottage, anyway!
Things to See and Do in Whitby
There a number of haunted sites in the area, so when you head out from your cottage, be sure to go on one of the many ghost walks around the town. These are a good fun but perhaps not for those easily scared! Another spooky option is the Dracula experience, which leads you into a tunnel made to look like the great count´s lair.
As well as these dark diversions, take the kids down to the beach for an old fashioned donkey ride. If you're feeling a little more energetic, walk up the 199 steps up to St Mary's Abbey from the town. The Captain Cook Museum is also definitely worth a look and contains some fascinating information and exhibits relating to Whitby's most famous son. The Whitby Lifeboat Museum also gives good insights into life on the waves.
Eating and Drinking
There are some great local eateries in Whitby, specialising mainly in local food. Whitby is famous for its kippers, which are smoked in the local smokery at Fortune´s. Humble Pie ´n´ Mash is great for pies and offers a great value meal if you are in self-catering accommodation. For the best fish and chips in Yorkshire (allegedly!), head along to the Magpie Cafe - bear in mind that you will probably need to queue for the best part of an hour, so if you are in a hurry Quayside comes a close runner up and also offer great views to enjoy with your meal.
Getting To and Around Whitby
You can reach Whitby by car on the A171 coast road from Scarborough and East Yorkshire, or else from York, the A64 to Malton and then the A169 through Pickering and over the moors. All routes are very scenic, but this also means that they can be treacherous or closed in bad weather as they pass over high moorland where it may snow. You can also take the train from Middlesbrough which travels through the pretty Esk Valley. There are also a number of buses serving the area, with the company Arriva running half-hourly (summer) or hourly (winter) buses along the coast from Middlesbrough and Loftus.

Once in Whitby, you can either use the local bus services, or walk around the compact town. It is small enough that you don't need to worry exactly where your bed and breakfast is located as you'll be able to walk back easily! Due to a shortage of parking opportunities, driving is not recommended.