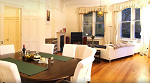 England is one of Europe's most distinctive, diverse and exciting countries to visit. Steeped in history and culture, England has long been a favourite travel destination for people from around the world and its tourism industry is suitably large and well developed. England has many exciting cities that are full of exciting things to see and do. From the rolling hills of the Sussex Downs to the quaint villages of Dorset, England's countryside is glorious in the sunshine and is great for outdoor activities such as walking and cycling. Wimdu offers a great selection of accommodation options in all cities and towns in England, from bed and breakfasts to English cottages rentals! Check out our map to see what is on offer. In this guide we'll be running through what we think is worth and seeing and doing in England – read on!
Bed & Breakfasts and Accommodation
Throughout England you'll find hotels and hostels which maintain excellent standards. If you'd prefer a bit more comfort and the feeling of home, why not choose Wimdu accommodation? We have and excellent range of bed and breakfasts, cottages and holiday apartments, all over England. Whatever you're looking for Wimdu has you covered.
Fun Facts!
The inventor of the World Wide Web is an Englishman – his name is Tim Berners-Lee!
England's longest river is the River Severn – it's 220 miles long and crosses into Wales too.
In the 14th century, babies in the county of Herefordshire were baptised in cider!
There are more chickens than there are humans in the UK!
Things to see and do in England
Where do you start with the kind of things England has to offer? There's so much to see and do! We'll run through our favourite cities, attractions and countryside in England – enjoy!
England's Top Cities
London
London is by far the biggest tourist attraction in England and the capital contains an overwhelming amount of things to see and do. Why not take a trip on the London Eye for a panoramic view over all of London? The Tower of London and Houses of Parliament offer insight into London's deep history and will help you get an understanding of the kind of tumultuous changes the city has undergone over the ages. Borough Market is great for eating options, as is the Soho area of central London. Madame Tussauds, Buckingham Palace and Big Ben are all popular tourist attractions and well worth a visit too. London is full of amazing, free museums including the National Museum, Tate Modern, Imperial War Museum and the Churchill War Rooms. There's something for everyone in England's capital – don't tire yourself out! There is plenty of accommodation options available to you when you visit London! Check out our apartments and bed and breakfasts!
Bristol
To the west of London and located close to the border with Wales is the city of Bristol. Here you'll find lively pubs, beautiful parks, great shopping opportunities and an alternative culture like no other. World famous graffiti artist Banksy hails from Bristol and some of his work is dotted around the city – look out for it! The Clifton Suspension Bridge in Bristol is one of the world's most impressive and unique bridges and we certainly recommend you take a walk along it! Down by Bristol Harbour are some excellent restaurants serving up local produce as well as locally made cider from nearby Somerset!
Northern England
Moving northward the cities of Sheffield, Manchester and Leeds are all excellent places to visit with their own unique attractions, culture and ways of living. People from the north of England are known to be friendly and welcoming and it's always a pleasure to take a walk around these former industrial cities. Nowadays they've all been modernised and have become centres for shopping, culture and history. Sheffield's botanical gardens and Peace Garden are popular with locals and tourists alike and the nearby Crucible Theatre hosts Shakespeare plays and the World Snooker Championships. Northern England is where many of England's greatest musical success hail from – The Beatles certainly put Liverpool on the map whilst Oasis defined Manchester and the northern psyche. Both cities celebrate their famous sons and The Beatles Story museum in Liverpool is one of the city's top attractions.
England's Top Attractions
England is packed with world class attractions that receive visitors from all over the world every year. Theme parks such as Alton Towers near Birmingham and Chessington World of Adventures are both hugely popular, as is Lego Land near Windsor. A good way to get an idea of Britain's history is to visit Stone Henge in Wiltshire or Chatsworth House in Derbyshire. Cadbury World in Birmingham is dedicated to the famous chocolate and nearby Chester Zoo is well-known as a fun family day out.
England's Glorious Countryside
Anyone visiting England should experience what it's like to live in the beautiful English countryside! It comes in all shapes and sizes – there's overwhelming mountains in the Lake District, rolling dales in the Peak District and beautiful rolling fields in Devon and Cornwall. Somerset and Herefordshire are famous for their apple orchards whereas Exmoor in Devon is known for its wild ponies! England's coastline is also pretty special – consider visiting the white cliffs of Dover, the quaint Yorkshire fishing village of Whitby and the wild Norfolk coastline. England is a walking and cycling paradise! Wimdu offer a range of English country cottages for rent all over England's country side, make sure you check them out!
Getting Around
England has excellent transport links and many airports – some of the biggest airports include Heathrow Airport in London, Birmingham Airport and Manchester Airport. There are also major airports in Bristol, Cardiff, Liverpool and Newcastle. Getting around England is straightforward and trains connect major cities with each other. Buses are the best way to travel through the countryside and smaller towns whilst cycling is recommended in some of the country's flatter cities such as Cambridge and Norfolk. National Express and Megabus operate good value coach services between cities and is often cheaper than travelling on the trains.