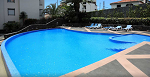 The islands that make up the Portuguese archipelago of Madeira - Porto Santo and Madeira being the main ones - lie 250 miles north of the Canary Islands, in the Atlantic Ocean, off the coast of Morocco. The spring-like climate(between 20 and 27 degrees throughout the year), stunning beaches and dramatic mountain scenery, make it a popular tourist destination, visited by over a million people each year. Whether you want an active holiday of water sports and hiking, or whether you're content to sit on the apartment of your balcony sipping a glass of the famous Madeira wine, you'll be enchanted by beautiful green Madeira: "The Garden of the Atlantic".
Where to Stay in Madeira
Most visitors to the islands book accommodation in Madeira's capital - Funchal. It is near the airport and offers everything you could want from a holiday base - lovely scenery, relaxed nightlife, good restaurants (perfect if you are in a self-catering rental!) - and the town is small enough to get everywhere on foot. We have a great range of holiday rentals in Funchal, from villas overlooking the town with their own swimming pools, through to apartments in the centre, with private balconies. On the opposite side of the island sits the second biggest town, Machio, with 20,000 residents. It is also popular with holidaymakers.
Fun Facts about Madeira
The island of Porto Santo was officially discovered in 1418, and Madeira in 1420, after Portuguese sailors Joao Goncalves Zarco and Tristao Vaz were blown off course by a storm!
Christopher Columbus got married on Porto Santo! His house on the island has been kept as a museum.
Another famous visitor was Winston Churchill, who used to enjoy painting the views from Camara de Lobos
Things to See and Do
If you are a fan of outdoor pursuits, you will be in heaven in Madeira! Strap your hiking boots on and head up to Ponta de São Lourenço in the east of Madeira. It is a gorgeous nature reserve with awe-inspiring Atlantic views, and fascinating formations of volcanic rock. Make sure you take water and supplies with you, as the full walk is a good few hours. There's also a popular local beach nearby called Prainha which is Madeira's only black sand beach and perfect for a refreshing post-walk swim! There are also tons of opportunities for water sports, from sailing to snorkeling to scuba diving. Surfers should head to Jardim do Mar to catch some good breaks. Before renting equipment, check with your apartment host as there might be a few surfboards or a canoe included in your rental.
Taking a coach tour of the island is also a great way to spend a day - various tour operators offer trips in air-conditioned coaches, where you can get off at tourist spots and towns for a wander around before being whisked through beautiful countryside to the next place. If you're on a family holiday, the kids will love Santa Cruz Aqua Park, Madeira's first water park! It can hold up to a thousand people, and has a great variety of slides, pools (one specifically for children), a river to swim in - and a bar for the parents!
Other "must sees" on the island include the Funchal Botanical Garden and the fabulous Jardim do Monte Palace - the gardens of the former Monte Palace hotel. Take in the view from the top of Cabo Girao, which is one of the highest ocean cliffs in the world! If you are interested in Madeira's past, check out the Madeira Story Centre and the Madeira Theme Park which covers 17 acres and has loads of good exhibitions, including interactive ones that younger visitors will love, including a small-scale train to take you between attractions! There are various restaurants and bars if you want to make a day of it.
Eating and Drinking
For some delicious local food, head to Porto Moniz, Santo da Serra or Ponta Delgada and have a wander through their established food markets. As well as delicious fresh seafood, fruit and vegetables, you'll also be able to taste local specialities such as bolo de caco bread which is a tasty flat bread, smothered in garlic butter and often served as a sandwich with an octopus filling! Fill up a basket and take it all back to your self-catering villa for a lovely barbecued dinner by the pool. And of course, no trip to Madeira would be complete without sampling a bottle (or three!) of local Madeira wine, a popular fortified wine. Verdelho and Sercial are the drier varieties, while Bual and Malvasia are much sweeter.
Getting Around
Most flights land at Madeira International Airport, just outside the town of Funchal, but Porto Santo Airport is just a fifteen minute flight away if you need to transfer. Once you have arrived, buy a 7-day bus pass, but be aware that bus timetables can be confusing! There are six different bus companies, and timetables often don't give very clear information on routes. Your apartment host should be able to tell you the main routes you will need to get to and from your accommodation, however.
If you are able to, we really recommend that you rent a car. You can spin along the beautiful coastal roads, or enjoy the views from the hills - and get to cute villages and towns that you would never find by public transport!