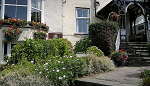 Lake Windermere, part of the Lake District National Park, is situated in the county of Cumbria and is today one of England's most best loved tourist destinations and a popular place for holiday apartments. It is a picturesque country surrounding the largest natural lake in England, which leads as a gateway directly to the famous Lake District. As the name suggests, Windermere is known for its choppy weather, but also for its excellent water sports and pretty English cottages. Power boating and water skiing are popular activities on the lake and Windermere can make for a great place to visit if you're after a little slice of English life. Whether you choose to stay right on the lake in one of Windermere's homely bed and breakfasts or rent out a large self-catering apartment for the whole family, you are sure to have a brilliant experience in one of England's finest counties.
Where to Stay
A big part of the charm of Windermere is it's picturesque typical English beauty. The county is a popular destination for tourists and as a result has an abundance of accommodation to suit all budgets and purposes. From cheerful b&bs to luxury guest houses, self-catering cottages to modern apartments, you have plenty of choice. So where is it best to stay for your rural get-away? The county of Windermere is made up of two main towns: Windermere town and Bowness-on-Windermere.
Fun Facts
Windermere is the largest natural lake in England at over 10 and a half miles long.
Lake Windermere was formed over two thousand years ago, during the last major ice age!
Tourism more than doubled after the introduction of the Kendal and Windermere railway line in 1847.
In 1930 Sir Henry Segrave broke the world water speed record on Windermere in his boat at an average speed of 158.94 Kilometers per hour.
Windermere town
The village of Windermere itself does not actually touch the lake's edge and is a little smaller in size than Bowness-on-Windermere, but no less beautiful. There are many family holiday cottages where pets are often welcome and fires blaze strong. Ideal if you're heading to Cumbria with all but the kitchen sink. If you're after something a bit more stylish for your stay you will also find many modern apartments, often rented out by writers or boaters who live in the area.
Bowness-on-Windermere
Bowness-on-Windermere is probably the most popular place to stay in Windermere, with even more accommodation options available here than in Windermere town. Bowness-on-Windermere sits directly on the lakeshore of Windermere. So if it's a cottage with a view you're after, this is the place to look.
What to See and Do
Windermere is a great place to visit if you like the outdoor lifestyle or consider yourself a bit of a thrill seeker. The brisk lake air, choppy waters, green forest, and rolling hills make for the perfect outdoor holiday adventure that is bound to challenge the energies of even the most boisterous, and make you feel 10 years younger at that!
Boating
Let's go boating. Windermere Lake is probably best known for its boating and boating is a popular sport on the lakes, with many different types of boating activities on offer, from speed boating to wind surfing, river cruising to kayaking. There are also passenger boats and ferry's that run for the whole length of the lake, making several stops on the way, so you can travel from north to south is style. If you're really into your boating there are several clubs that may be of interest: the Windermere Boating club, motor boat racing club, Windermere Yacht Club, Windemere Cruising Association and Windermere Sailing Club, are just some of the better known. Social racing is also a huge sport here, with some of the records for the 'fastest on water' set on Windermere lake. If you really want to take to the water though, you can join the Great North Swim, an open water one mile swim with around 4000 swimmers each year.
Museums
If you're an automotive enthusiast, there are two must-see museums in Windermere: the steamboat museum, with a collection of vintage steam boats that date back to 1850s, and the Motor museum, with an extensive collection of automobiles from classic minis to Aston Martins.
The world of Beatrix Potter
This Beatrix Potter themed attraction is a magical experience for both adults and children alike: complete with life-size models of the characters and replicas of scenes from the book, it is hard not to get caught up in the story of Peter Rabbit all over again. If you're staying in Windemere and remember reading the books as a child, it is well worth a visit.
Rydal Mount
William Wordsworth is known to have written many of his poems while staying in Windermere. His best known residence is Dove Cottage but he also spent a lot of his time at the Wordsworth family home, Rydal Mount: a grand house near the town of Ambleside until his death in 1850. The house is still today under the ownership of Wordsworth residence and contains a fascinating collection of memorabilia from the poet's life.
Food
As a typically English county, Windermere is well known for its award-winning pubs and and craft brewery, famous among which is the Hawkshead Bitter, Dark Brodie's Prime and Fruity Red. If your apartment or cottage is situated in Bowness-on-Windermere, the town's oldest pub 'Hole in T' Wall' is well worth a visit: a great place to experience traditional English 'pub grub' and the hearty pub atmosphere.
Getting Around
The county of Cumbria is easily accessible by train, road or sea. The UK has excellent service links to Windermere from most of the major cities and once inside the country it is best to continue your travel in the same way: Cumbria's famous steam railway line is perfect for getting to from north to south of the county. But this is certainly not the only way to get around. There are minibus tours, and a good connection of a bus and coach tours, and it is easy to drive around by car. Getting to and from the lake is not a problem, whether you're staying a bed and breakfast in Bowness-on-Windermere or a self-catered rental in Windermere town, the lake is perfectly accessible by foot.