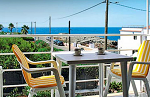 The island of Minorca is the second largest of the Balearic islands that lie off the Spanish coast in the western Mediterranean Sea. Less overrun than Mallorca and Ibiza, it especially attracts those seeking tranquility and rugged unspoilt landscapes. The best time to visit the island is from April to October, with the peak season starting from the end of June until the beginning of September. Most visitors will come to Minorca to enjoy a stay in one of the traditional Spanish villas and make the most of the beautiful and relatively empty beaches. In fact, Minorca actually has more of these that both Mallorca and Ibiza combined, despite its smaller size! It doesn't have their nightlife and club scene but makes up for this with a wealth of historic sites to visit and outdoor activities to engage in.
Villas in Minorca
There is a large variety of accommodation available in Minorca, from lavish celeb-style apartments to traditional Spanish villas: complete with rooftop terrace and pool. If you want to experience life like a local on this stunning island, then check out the offers on Wimdu, where you'll find a range of holiday rentals. Whether you're looking for a villa with a bit of a twist or just a great place for the whole family. Because Wimdu rentals are privately owned, you get a great insight into life in Manorca, and the convenience of all the home amenities you might need. There is nothing like a bit of home comfort when staying in a villa abroad!
Fun Facts
Minorcans are all bilingual, speaking both Spanish and a Catalan dialect specific to the island known as Menorquín.
The island has been a UNESCO biosphere reserve since 1993 in recognition of the preservation of its natural environment and ecosystems.
Mayonnaise comes from the term "salsa mahonesa", named after the island's capital Mahon. The French took it back to France from the island in the 1700s.
There are prehistoric sites on the island dating back to 2,300 B.C. making it popular with archaeology students.
The island is so flat that from the highest point (357m) you have an uninterrupted 360 view all around.
The capital Mahon is the only city in Spain with Georgian architecture from the time of British rule.
Things to See and Do
Minorca is a great country to explore, with natural scenic beauty, prehistoric monuments and many lighthouses (there are 7 altogether). If you've already got your accommodation sorted or you're thinking ahead of the villa, here are some suggestions of things you can do on the island:

1) Take a glass-bottomed cruise around the deep harbour and out to the underwater caverns and caves where professional PADI staff will take you on a dive, suited either for novices or experienced divers.
2) Take to the hills on horseback: Minorca has a fascination with horses, even having their own breed of black horses. Several companies offer horse rides along the "Cami de Cavalls" and other trails.
3) Leave your apartment early and pack a hamper, then head to one of the many beaches that are dotted around the island. Some of the better known ones include Cala Pilar, Cala Mitjana, Arenal d'en Castell, and the largest beach, Son Bou.
Food Delights
There are plenty of very good restaurants serving delicious food, especially seafood, all over Minorca. Some places to keep in mind are:

1) Es Cranc is one of the best restaurants on the island serving up some tasty home-cooking. If you like seafood try the shellfish soup "Calderata".
2) For authentic Minorcan cuisine head to the Windmill restaurant on the main Maó-Ciutadella road. The restaurant lies within a 300 year old building!
3) Alaska is a small place in Cala Galdana that specialises in tapas and provides an excellent service at a great price. Try the stuffed peppers with cod, meatballs, garlic mushrooms and fried prawns, just some of the delicious food on offer.
4) Son Granot in Carretera Sant Felip sn Es Castell grows all served vegetables in its own back garden and has a lovely view of the Mediterranean and Maó. The food is very good traditional fare paired with good Spanish and French wines. 5) Why not head down to your local market and pick up some fresh vegetables, and a selection of cheese and meats to take back to your villa for a truly authentic home-cooked Spanish dining experience. If you want to try a classic, sausage casserole always goes down a treat!
Getting To and Around
There are a number of flights directly to Minorca Airport which is only 15 minutes by bus from the capital Mahon (Maó). The bus runs every half hour from 6am to 10pm and then hourly till midnight and costs €1.50. The main bus company serving the island is Transportes Menorca with buses running hourly along the island, also serving most of the Western beaches. Tickets are cheap. Car or motorbike rental, which is best organised online from the comfort of your own villa, allows for more freedom and greater access to some of the isolated beaches. With a motorbike you have the added benefit of not having to worry about finding a parking space! Taxis are also a popular option, but can have long waiting periods in the peak season. You will generally find that no matter where your villa is situated on the island, it is easy to get around.