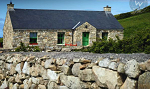 The northern Irish county of Donegal, known by locals as The Forgotten County due to its remote and rural location, is one of Ireland's most beautiful and dramatic places. Tucked way up in the north western corner of the Republic of Ireland, Donegal is the most northern county in Ireland (including Northern Ireland). Donegal is a predominantly rural county with just a handful of settlements spread across it. The biggest of these is Letterkenny which lies in the north of the county, close to the border with Northern Ireland, near the towns of Buncrana and Carndonagh. Donegal Town is in the south, close to Ballyshannon, while Dungloe and Glenties are in the east of the county. Donegal offers a great range of diversions, including beautiful landscape, historical landmarks, great holiday accommodation and of course excellent nightlife and of course some good old Irish craic! Keep reading to find out more about Donegal!
Where to Stay in Donegal
Ireland is a hugely popular holiday destination for visitors from all around the world, and well set up for tourists. Despite its remote location, Donegal is no exception and you will be able to find whatever it is you need, from cosy country cottages with sea views, through to larger family holiday homes and accommodation suitable for family breaks or a romantic weekend away. You can use the Wimdu website to search for exactly what you need, from your perfect location to pet-friendly bed and breakfast accommodation to self-catering places suitable for all the family. Whereever you book, we know you'll have a great holiday in Donegal!
Fun Facts about Donegal
Donegal's coastline is the longest stretch of coastline in Ireland!
Famous country and western crooner Daniel O'Donnell and rock legend Rory Gallagher were born in Donegal
Donegal's Ballyshannon is the oldest town in Ireland!
The name Donegal comes from the Irish 'Dun na nGall' meaning 'fort of the foreigner'.
Things to See and Do
Donegal is full of interesting and exciting things to see and do! Perhaps the most intriguing place of interest is the Grianan of Aileach, a group of historic structures sat atop a 244m hill on the Northern Irish border. The main structure is ring fort built of local stone and thought to have been built in the 6th or 7th century. There are great 360 degree views over the surrounding country from the hill and you get an idea why such a hill was chosen as a good place to build a fort – you can see anyone coming from miles away! You'll need a car to reach the hill and don't expect much information about the fort but if you're into history you'll find a visit enjoyable!
Malin Head
Malin Head is another Donegal highlight and is considered to be 'the Jewel of the North'. It's Ireland's furthest point west and you really get the feeling of being out in the wild! To get to Malin Head you have to go down several miles of single track road but you are rewarded with some amazing views out to sea and on a clear day you can see the Scottish Islands! There are several villages on the way to Malin Head and the way is clearly sign posted. There's a lighthouse and some pretty summer cottages at Malin Head too.
Glenveagh National Park
Glenveagh is the second largest national park in Ireland and is located in the county of Donegal. It's a lovely place to go and get close to nature! There's a well-run visitors centre in the park and a lovely paved path along the edge of the lake in the park towards the majestic castle. Glenveagh is very popular with walkers and families and people love the remote location. Tours of the castle are available which will give you an idea of the history.
A Day Trip to Letterkenny
Letterkenny is Donegal's largest town and offers several interesting things to see and do for tourists. The town was originally an ancient market town with roots in the 17th century. St Eunan's Cathedral is worth a visit and a look around the impressive interior of this church is highly recommend. Culturally, Letterkenny is thriving and the large theatre centre in the town is evidence that the locals take their arts seriously. Letterkenny is famous for its annual St Patrick's Day parade in March and the Donegal International Rally which is held in June. Letterkenny is known for its excellent nightlife and enjoying a tasty pint of Guinness is an essential activity for anyone visiting Ireland! Traditional music is also very popular in Donegal and you'll find many folk musicians converging on the pubs in Letterkenny in the evening to enjoy a session of music and beer! If you're wondering where to base yourself for your holiday, then a holiday home in or around Letterkenny is worth consideration.
Getting Around
The N15 road connects Donegal with county Sligo which is located to the south of Donegal. The N2 road connects Donegal with Dublin, the capital of Ireland. Donegal International Airport has connections with Dublin and London. There are no rail connections with Donegal and the closest rail connections can be found in Sligo and Derry in Northern Ireland. Bus Eireann run buses throughout Ireland and connect Donegal with Sligo, Galway and Dublin. The best way to explore Donegal is by car and you can hire a car in several towns in the county. If you are arriving to Ireland in Dublin then you'll find numerous hire car options. It's certainly the quickest way to get around the county and you'll find most areas of interest are inaccessible without a car - so if you're relying on public transport, make sure your bed and breakfast is within easy reach of a train or bus line!