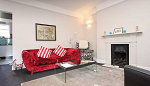 Situated right in the heart of London's centre,Covent Garden is a hugely popular tourist spot, and a favourite haunt for London locals alike, bursting at the seams with shops, restaurants, bars, swanky apartments, theatres and more cultural and entertainment establishments than you could shake a stick at. If you're visiting London and looking for a place to stay, Covent Garden will definitely give you a run for your money on things to see and do.
Accommodation
Apartments in Covent Garden range from the unstated to the stately beyond belief. Whether you're looking for a crash pad for your drinking shenanigans or a studio flat that can cater for over eighteen people, you will no doubt find what you are looking for in Covent Garden. Wimdu has a vast range of accommodation in Covent Garden, with huge private apartments available for the same kind of money per night you'd pay per night for a hotel, as well as locally run bed and breakfasts. Didn't think you could afford to stay in this ultra fashionable area? You can with Wimdu.
Fun Facts
Covent Garden is categorised as one of the two International Centres of the London Plan.
The term The West End was coined to refer to fashionable neighbourhoods to the west of Charing Cross.
The famous Covent Garden Market used to be an unpretentious fruit and veg market, selling local produce.
Covent Garden was mainly made up of fields until the 16th Century, where it was established as an Anglo-Saxon trading town.
Before being seized by Henry VIII, Covent Garden was known as the Garden of the Abbey and Convent.
Things to see and do
Shopping
There are an abundance of boutiques, high-end fashion shops and vintage outlets in Covent Garden. If you know your fashion or just want to browse some of London's best labels, this is a great place to find cutting edge brands. Shopping in Covent Garden has a very different vibe from shopping in say Oxford Street. The selection is very different and the shops are generally smaller and less crowded. Here you will find fashion brands such as Orla Kiely, Rokit and Mac and a wide selection of beauty stores such as the Chanel Make-Up Pop Up and Neal's Yard Remedies. On the flip side, if you prefer to do your shopping with a bit of an atmosphere, the Covent Garden Market, held every Sunday in the middle of the square, provides more of an 'authentic London' shopping experience. The Piazza Building, a nineteenth century colonnaded area, hosts the Covent Garden Apple Market, with crafts and independent toy stores, a great place to pick up a gift or some beautiful decorative items for imitating the decor of your Covent Garden apartment back home.
Restaurants
Covent Garden is literally heaving with food outlets and fancy restaurants to cater for the vast number of hungry tourists and theatre goers who swarm through its streets every day. Great burger joints, authentic spice kitchens and italian classics fill the streets with pungent smells of fresh cooking. You certainly won't feel guilty about not making use of the kitchen facilities back at your apartment eating out in Covent Garden. Wimdu recommend Dishroom for a great lunch time snack: a Bombay cafe with delicious down to earth traditional Indian food.
London Transport Museum
Maybe the London Transport Museum wouldn't be top on your list of itinerary when staying in London, but this little museum tucked away in Covent Garden is actually pretty impressive. Included in the collection are the first underground electric train, details of the London Underground plan roll-out and a play area for children under five complete with a mini version of almost every major London vehicle imaginable, as well as a simulator for the northern line. Even though it's easily within walking distance from most accommodation in Covent Garden, you'll find yourself wanting to take a black cab, red bus or the tube back to your apartment after an afternoon of looking the exquisite models.
West End Theatre
Despite being smack-bang in the centre of London, Covent Garden is more commonly known as the 'West End', a synonym today for 'entertainment central'. The term was coined in the nineteenth century to refer to the more trendy areas to the west of Charing Cross. West End theatre shows are notoriously expensive, but well worth every penny. If you don't already have your tickets, you'd better start booking. From musicals to shakespeare plays, comedy shows to Victorian drama, there is something to suit everyone.
The Royal Opera House
London's Royal Opera House, situated in Covent Garden is one of the world's leading opera houses. It is renowned for its phenomenal performances of some of the most well known opera pieces. Though it is not only opera performances that can be seen here; the iconic performance hall is also host to the Royal Ballet, Royal Orchestra, and several cinematic performances. Make sure to leave your apartment with enough time though, shows start promptly!
Nightlife in Covent Garden
If you're evenings aren't already chock-a-block with theatre shows, opera and dinner dates at top London restaurants then not to fear, the options are endless in Covent Garden when the sun goes down. There are so many bars and pubs around the area that you'll have a hard time choosing where to go. The square itself is the place to go if you don't mind spending a little more for an excellent cocktail with excellent views to match, from the rooftop terraces. If you'd rather keep it a bit more low key there is also a great range of traditional pubs in the area, or you could make it even more low key and take it right back to your apartment. Given the apartments available in Covent Garden, it may not be so low key after all.