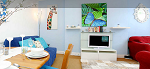 Stylish, stately, expensive. That's Hyde Park. But if you're lucky enough to bag yourself one of the magnificent apartments or self-contained studio flats available in chic city centre neighbourhood and a piece of high-end lifestyle to boot, you're in for a treat. With excellent connections to every aspect of the city, many must-see attractions a stone's throw away and cosmopolitan restaurants right around the corner you'd be hard pressed not to have a good time staying in right in the middle of London's 'Royal District'.
Where to Stay
Staying in central London most definitely has its perks. Whether you're drawn to Hyde Park for work or leisure, you will find plenty to offer in terms of accommodation. From beautiful period apartments to modern open plan studio flats, Hyde Park and its surrounding areas: Notting Hill, High-Street Kensington, Covent Garden, Knightsbridge Bayswater and Marylebone, are host to some of London's most magnificent high-end houses and flats. Styles range significantly, but typically you will find the apartments in Hyde Park are categorised by high ceilings, large bay windows and authentic Victorian charm. If the traditional English townhouse is more your taste, Notting Hill is famous for its beautiful white terraces and Kensington for its elegant family homes. If you prefer something more modern Hyde Park is host to range of spacious open plan apartments, decorated stylishly with flair and imagination. Whatever you are looking for in London's centre, Wimdu has the perfect accommodation to suit your needs.
Fun Facts
Hyde Park was the hotspot for mass demonstrations in the nineteenth century with Speakers' corner attracting religious and political speakers from all walks of life
Hyde Park is one of the largest of London's Royal Parks, home to the oldest boating lake in the city centre The Serpentine
Hyde Park itself is 1.5 miles long and about a mile wide and only opened to the public in the early 1600s
Things to see and do
Hyde Park is the home of tourist hotspots, picturesque waterside cafes and chic bars and restaurants. When it comes to staying in London's buzzing centre you will be spoilt for choice for things to keep you busy.
Let's go sightseeing
Get up early and leave your stately Hyde Park flat behind to venture out for a day's sightseeing. Many of London's best and most visited sights surround this area, with Covent Garden and the South Bank only a 15 minute walk to the east, Buckingham Palace just off to the south and the Royal Albert Hall only a stone's throw from High Street Kensington. You could start your day with a trip around the London Eye for some breathtaking view of the city then travel back in time with a visit to the iconic Westminster Abbey: one of the most beautiful historic examples of Early English Gothic architecture in London. Next stop: Covent Garden for a bite to eat and a daytime cocktail in one of London's glitziest districts with shops, restaurants and bars at every turn. No stay in central London would feel complete without a trip to Buckingham Palace. Stand and salute with the guards or simply admire the grandeur of this magnificent building in passing: while staying in the Royal neighbourhood, royalty cannot be avoided!
Museums and galleries
If you need a break from the Hyde Park grandeur for an inspired educational day out, there are several museums and galleries around the area that make great destinations for a fun family day trip. Exhibition Road in South Kensington is host to no fewer than eighteen museums and educational establishments altogether with The Science Museum, Natural History Museum and Victoria and Albert Museum proving most popular for tourists. With its interactive exhibits, simulator experiences and an extensive space collection, the Science Museum will certainly not fail to disappoint and if you still have the energy the Natural History Museum is just around the corner hosting an impressive Victorian collection of things from the natural world, including a life-size Tyrannosaurus Rex model.
Hyde Park
Hyde Park is Central London's largest open space. Formerly a hunting ground, this large expanse of greenery in the city centre is today a hotspot for locals and tourists alike, especially in the summer months where The Serpentine Lake provides the perfect spot for indulging in a bit of traditional English leisure time. Take to the water in your own little rowing boat and float past the tufty-headed ducks and you will soon forget you're in the world's busiest business centres.
Hyde Park
If you're a shopaholic Hyde Park is probably one of the best locations of all. Within walking distance you have all the most famous of London's shopping hotspots: Oxford street, High Street Kensington, Portobello Road and Harrods. Oxford Street is the main shopping destination of London with all the biggest brands and the best of high street shopping in one place. Here you will find massive department stores and super sized versions of many of your favourite high-street shops. But beware, it can get can get quite hectic so good to get there just as the shops open, or head there on a weekday if you have the option. For an authentic London Market experience Portobello road offers antiques, organic food and one of London's best flea market's on Sundays. Head to Harrods to marvel at the extravagant splendour, affordable only for London's most elite. After a day's shopping head back to your apartment, put your feet up and sink into the sofa!
London Nightlife
Hyde Park is London's most cosmopolitan, fashionable neighbourhood, full of beautiful people, trendy bars and delicious cocktails. If you want to experience life like one of the high-class Lawyers whose Hyde Park studio you're renting, Covent Garden is the place to go; home of the rooftop terrace bar and cosmopolitan to the extreme. Many of London's major night bus routes run through Hyde Park so it is always convenient to get back to your apartment after a night out partying.
Getting around
Staying in central London means excellent transport links to all areas of the city. Hyde Park itself is within walking distance of no fewer than six of London's underground lines, but of course with everything on your doorstep you may not even need to use public transport at all. And with a high-class Hyde Park studio, you should be getting taxis anyway, no?