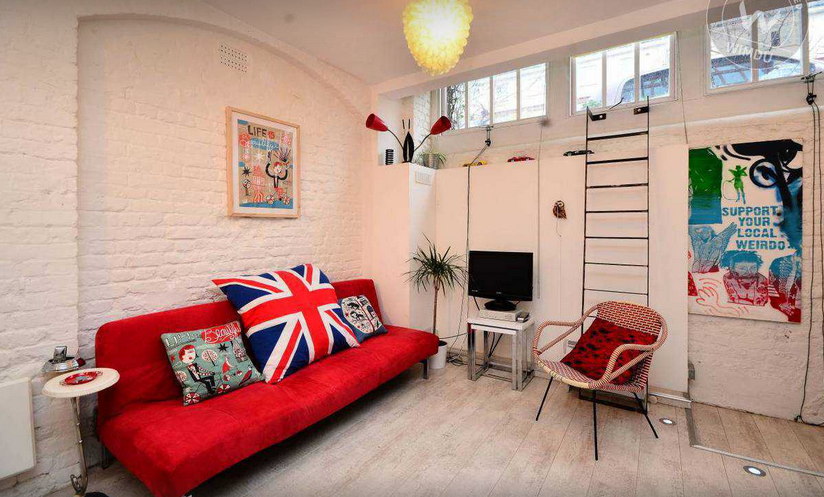 The central London district of Shoreditch, in the borough of Hackney, has changed a lot over the last few years, from a down-at-heel area populated by struggling artists to today's trendy night-life destination with a huge variety of bars, clubs and restaurants. The area has still hung on to a bit of its old artistic edginess however, and there is some brilliant graffiti - don't miss out on the Alternative London Tour that will tell you about the ever-changing street art in the area! Public transport in Shoreditch is good as well, so Shoreditch is the perfect part of London to base yourself if you want a busy weekend in the Big Smoke. Check out Wimdu's range of holiday rentals and get booking!
Fun Facts about Shoreditch
There are many theories why Shoreditch is named Shoreditch. One is that it was originally called "Shore's Ditch" after Jane Shore, the mistress of Edward VI, who it is said is buried in a ditch in the area.
Old Street underground station has a massive eight exits, plus a secret one that will take you to sit on the central roundabout, so make sure you take the right one when you leave the station!
The Northern line, which serves Shoreditch has the longest continuous tunnel of any tube line
Where to Stay in Shoreditch
Shoreditch is totally walkable, so don't worry too much about where in the area you are staying - you'll still be able to get home after a late night easily enough! If you are planning on exploring more of London then you might want to make sure you are staying within walking distance of either Old Street station or Liverpool Street Station. Wimdu offer various types of accommodation and it is easy to search for exactly what you need - whether that's a balcony and extra bedrooms if you're travelling as a group, or whether you are looking for an apartment, a whole house or just a private room to keep the costs down.
Things to Do and See in Shoreditch
A good way to get orientated and get beyond the guidebooks is to take the Alternative London Tour. This is a fascinating insight into the area's sub-cultures and history, including up to date information on the ever-changing street art and graffiti of the area. The guides are all knowledgeable locals, some of whom are graffiti artists themselves. If this has piqued your interest in local history, then another must-visit is Dennis Severs' House at 18 Folgate Street, which recreates what life would have been like for a family of Huguenot silk weavers in the 18th century. There are ten rooms, some lit by candlelight, and visitors are asked to maintain total silence to appreciate the sensations, odours and sounds, designed to really suck you into the different tableaux and make history come to life.
If you are on a family trip, then the kids will love Hackney City Farm, a short bus ride or twenty minute walk up Hackney road from Shoreditch Church. They can take a look at the animals, and feed the goats and chickens - to make the most of the muddy fun on offer, make sure they are wearing wellingtons! There's also a great cafe at the farm that does a brilliant full English breakfast at the weekend.
Eating and Drinking
Whatever you want to eat, and whatever time of night or day you want to eat it, you will be spoiled for choice in Shoreditch - so we recommend you go for a self-catering apartment! For budget meals we particularly recommend Little Hanoi at 147 Curtain Road for decently priced tasty Vietnamese food, and The Diner at 128 Curtain Road for a classic American diner experience, complete with mac and cheese on the side. Make sure you try one of their famous "hard shakes" - a tasty ice cream milkshake livened up with a shot or two of your choice! The perfect way to line your stomach before a night out in Shoreditch!
Shoreditch is famous throughout London as a great night out and people travel in from all around London to spill out at Old Street station in search of the shiniest new bar, or to do a crawl round the old favourites. Here's a rundown of some of our recommendations:
Pubs
As well as the ritzy bars and cool clubs, there are some great old-fashioned boozers in Shoreditch with a great range of ales and beers. A good first stop is The Reliance on Old Street, which has a nice chilled out ambience to enjoy a drink and a chat before diving into Shoreditch proper!
Cocktail Bars
Head straight for Callooh Callay on Rivington Street - this cute bar won the "World's Best Menu" award in 2012 and the cocktails are as impressive as the service is friendly! Our personal favourite is the Worship Street Whistling Shop, an old school Victorian gin palace. Squeeze into one of the overstuffed leather armchairs, order a gin cocktail and settle in for the evening!
Music Venues
Wander over to the Old Blue Last on Great Eastern Street to see up and coming bands every day of the week. It's normally free entrance too! The Macbeth on Hoxton Street is a classic Shoreditch music venue, and if you're lucky you'll see the next big thing on their stage.
Getting Around
First thing - get yourself an Oyster card! This piece of blue plastic will prove invaluable for getting around London - not only will you save time as you won't be stopping to buy separate tickets, but it will also save you money. You can buy one at most ticket machines and any shops (mostly corner shops and grocery shops) that are displaying the blue Oyster card banner in the window.
Shoreditch's underground station is Old Street - but watch out, getting out can be a little confusing as there are multiple exits, leading onto a double roundabout! Shoreditch is also on the Overground network - the stop is called Shoreditch High Street. It is also well connected for buses, which run 24 hours. The range of public transport means that your apartment or flat will only ever be a few minutes walk from a bus or train stop.