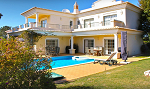 When people think of the Algarve, they automatically think of amazing beaches and an interesting history spanning hundreds of years. Loule is the charm and beauty of the Algarve in a nutshell. One of the biggest and busiest municipalities in the area, it boasts a stunning coastal location and an attractive culture which locals have been shaping since the 12th century. However, Loule is not restricted merely to its history. Walk along its streets today to find an influx of thriving businesses and indoor markets selling goods attractive to locals and visitors alike. Book your beautiful holiday villa or apartment in the area today and discover a town where ancient attractions meeting meet bustling shopping locations, and people dance on cobblestone streets as they enjoy Loule's vibrant social life.
Accommodation in Loule
The charm of Loule is not limited to its pretty streets, historical landmarks or scenic beaches. Find out for yourself by booking accommodation for your next holiday in the town. Wimdu has a great selection of villas and apartments to suit all types of travellers and budgets. Choose from spacious apartments in the town or beautiful sea front villas with enough room for family and friends. Plenty of options are available right now suiting the tastes and budgets of all those looking to travel to beautiful Loule.
Fun Facts!
The municipal holiday of Loule is Ascension Day!
Loule has been a part of Portugal since 1249!
A traditional part of the Loule Carnival is for people to throw water bombs and eggs!
Things to Do and See in Loule
Spend the first days of your trip resting upon local sandy beaches and those which can be found at the Algarves 'Golden Triangle' to ensure you have all the strength needed to fit in each and every one of Loule's cultural delights. Start at the Convent of the Holy Spirit which once held a church, but is now home to the Municipal Art Gallery which is a venue for temporary exhibitions and a small museum about the textile industry. Another interesting convent to visit is the Gothic Convent of Grace. Those interested in churches can view Igreja Matriz and Igreja da Ordem Terceira de Sao Francisco. The Castle of Loule is a must-see. While here, it is worthwhile to stop at Ermida de Nossa Senhora da Conceicao, a tiny chapel said to be covered with tiles depicting scenes from the life of Christ. At the end of this historic extravaganza you may be looking for something a little different. Now is a good time to visit Museum of Dried Fruits and learn about one of Loule's local trades.
Bring a piece of Loule back home by shopping at one of the famous gypsy markets which take place frequently. Most markets take place at least twice a month, but the sheer number of them will ensure that you will be able to visit at least one during your trip. Perhaps the most famous gypsy market in Loule is the one which takes place at the Municipal Market Hall every Saturday. Walk down winding laneways to find local farmers and their neighbours from Alentejo offering great produce.
Plan your trip to Loule around the time of one of its lively and truly entertaining festivals. The Loule Carnival is one of the biggest events that the town has to offer. Taking place over 3 days in February, the carnival is reminiscent of Brazil's world-famous Mardi Gras due to its swirling colours, upbeat music and dancing and general merriment. Avenida José da Costa Mealha is closed off throughout the period of the carnival. People travel from all over the Algarve to take part in the festivities so make sure you book your holiday villa in plenty of time! What happens if you do miss the carnival? Then make sure you have accommodation for the religious 'Festival of the Sovereign Mother'. Held in honour of the patron saint of Loule, it also attracts visitors from near and far. Or make sure you are there for FestivalMed, the International Jazz Festival or the Procession of Nossa Senhora da Piedade.
Eat and Drink!
Dining out in Loule takes some consideration as visitors will find themselves spoiled for choice. Delight in the flavours of the sea and mountains right on your plate when choosing a traditional Portuguese restaurant, or pick one of the many international restaurants which are also on offer. Whether you choose to eat out or prepare home cooked food in your self-catering accommodation, be sure to try at least one of the regions dishes which usually focus around sardines and seafood, and rabbit and pork specialties.
Getting Around
Guests to Loule will find a number of connections between the multiplicity and Faro Airport which is just 16 kilometres away. The regional, InterCity and Alfa Pendular train services operate on a regular basis. A selection buses drive to Loule in 40 minutes and pick up passengers outside the 'arrivals' door of the airport. Taxis seating either 4 or 6 people can be picked up at the airport and cost between €20-€30 to Loule. Guests also have the option of renting a car at the airport and driving along the A22 motorway (now a toll road) or the secondary N125 road to their destination. Loule has a local bus network allowing visitors to the area to easily get around. Buses also operate between Loulé and Goncinha.