Top-Rated Lettings and Properties in Southampton
Book Holiday Letting Offers with the Highest User Rating
Pet-friendly rentals in Southampton
Explore best dog-friendly accommodation offers and enjoy holidays with your pet
Accommodation with Internet in Southampton
Choose your ideal cottage with Internet and WiFi in Southampton
Holiday cottages with pool in Southampton
Discover best holiday homes and cottages with pool in Southampton
Best holiday rental offers in Southampton
Price and Availability Index for Southampton
Click on any bar to see price and availability information
Holiday Letting Price Information in Southampton
We analysed data from the last 12 months and built the graph above to show you accommodation prices in Southampton. Booking a holiday rental is most expensive in August. In the period 24/08 – 31/08, you will need to pay £193 on average. However, as presented on the graph, holiday rental prices in Southampton are at their lowest in January and amount to £125 per night on average.
Rental availability information in Southampton
On this graph, you can see how many holiday rentals will be available in Southampton at different times of year. The most popular time of year to visit Southampton is May. If you'd like to visit then, make sure to book early! On the other hand, if you visit in January, you'll have plenty of choice, with 88 of the holiday lettings still available.
Vacation apartment Southampton - exploring the English south coast
Whether a short trip or a longer stay is planned, the city in the county of Hampshire has numerous leisure activities and attractions ready. In the immediate vicinity you will also find other seaside resorts such as Portsmouth, Bournemouth or the Isle of Wight. If you are not mainly interested in a seaside resort, then a visit to Guildford, northeast of Southampton, is worthwhile. And as for accommodation, you will find a wide variety of vacation rentals in Southampton.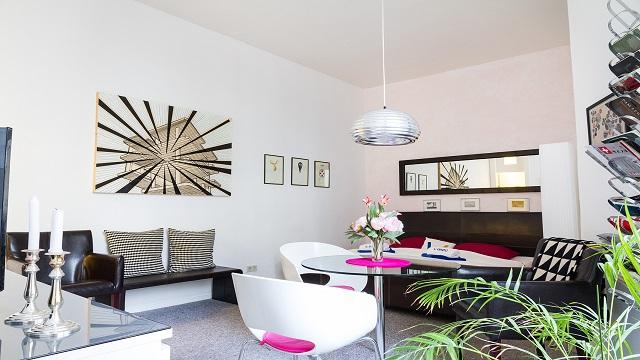 Southampton is more than just a port city

Although the port is the traditional, economic and cultural center of the city, but Southampton also has many other attractions to offer. Visit from one of the vacation apartments in Southampton, for example, the 15th century defense tower with the name "God's House Tower". Interesting is also the City Art Gallery, which shows works of modern artists and the "Hall of Aviation". This aviation museum presents helicopters, submarines and seaplanes. Moreover, when it comes to Southampton, one must not forget the city soccer club nicknamed "The Saints", which successfully plays in the English Premier League.
And we love our apartments
Other popular holiday destinations
Beautiful regions near to consider for next trip
Destinations worth visiting near Southampton
Interesting destinations to consider for your next trip