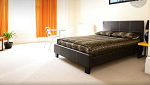 West London's Notting Hill is a lively area, with a fascinating history. Although now it is known as one of the most affluent areas of West London, home to celebrities and politicians, it was, until the 1980s, one of the poorest postcodes in the area. Immigrants to the UK from the Caribbean lived here in the 1950s, when flats and apartments were very cheap, and their cultural impact can be seen in the world famous Notting Hill Carnival, when over a million people arrive in Notting Hill for a weekend of great food and music, spread over 20 miles of roads! Notting Hill has always been associated with bohemian culture, and although you might have to dig a little deeper these days, you can still see that aspect to the area, especially in the slightly grittier parts of Ladbroke Grove and North Kensington.
Where to Stay in Notting Hill
Like most of London, there is a wide range of accommodation available in Notting Hill, from luxury apartments to guest houses and flats available for smaller budgets. Wimdu can help you find the perfect rental for your holiday, with an easy to use website where you can search for a self-catering studio or bed and breakfast apartment to fit your needs!
Fun Facts about Notting Hill
Not only did Hugh Grant star in the film Notting Hill, he also lives there in real life! The travel book store that he runs in the film also exists in real life, and you can find it at 13-15 Blenheim Crescent!
Joe Strummer wrote The Clash's classic "White Riot" following the 1976 Notting Hill Carnival riots
Everyone's favourite lost Peruvian, Paddington Bear, visits Portobello Road on a daily basis to have elevenses with his friend Mr Gruber in his antique shop!
Things to Do and See
One Notting Hill institution that you mustn't miss out on is the famous Portobello Road Market, which runs the length of Notting Hill every Saturday. It's a really popular spot for tourists, and a great place to pick up that knick-knack or souvenir that you never even knew you wanted! It is the largest antique market in the country, and it's still possible to pick up the odd bargain here and there if you haggle!
Holland Park is one of London's Royal Parks, but it's not as famous as some of the others - which is just how the locals like it! It's a beautiful place for an afternoon's wanderings. The northern half of the park is kept semi-wild, while the central section - around Holland House - has formal gardens. Holland House was bombed in WW2, and was never repaired. The ruins make a romantic backdrop for the open air Holland Park Theatre. It's a great place for a family picnic - the kids will love the giant outdoor chess set and the brilliant children's playground! There are also loads of nature walks and activities for the family, run by the Holland Park Ecology Centre.
One of London's more specialised museums is Notting Hill's Museum of Brands, Packaging and Advertising. It contains around 12,000 items, set out in chronological order, to create a "Time Tunnel" of packaging, boxes, toys and other every-day objects. It is a fascinating look at how society has changed since Victorian times (when the earliest objects in the museum are from) to the modern day. If you fancy a trip down memory lane, then make sure you put this special place on your itinerary!
Notting Hill Carnival
Every August bank holiday weekend, Londoners flock to Notting Hill for the famous carnival, which has been celebrating Notting Hill's Caribbean population since 1965, where it was held in a small town hall! It has grown to become the largest street festival in the whole of Europe, and second in the world only to the Rio de Janeiro Carnaval, attracting up to 1.5 million people! To give you an idea of the scope of the carnival, every year, carnival-goers get through 16,000 coconuts, 400 goats, 10,000 litres of Jamaican stout and 25,000 bottles of rum! Delicious Caribbean food stalls, great music, a fantastic atmosphere and world-famous acts - Wyclef Jean, MIA and Jamiroquai have all played - make this an event not to miss!
Getting Around
Notting Hill is really well serviced by tube lines - Notting Hill Gate, Queensway and Ladbroke Grove are all in the area and there is the usual 24 hour bus service that you expect from any central London location. Notting Hill itself lends itself to being explored on foot - there are lots of side streets with pretty cafes, bars and galleries to discover!