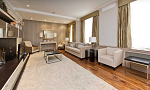 Located in the heart of London Mayfair is home to the one of the most exclusive neighbourhoods of London. Mayfair is named after the May fair which was held there for almost 100 years, until it was banned from the area in 1764. The district is known for being the location for many of London's most exclusive shops, restaurants, hotels and flush apartments, a fact famously symbolised by its appearance as the most expensive property on the London Monopoly board! The district includes several major shopping streets, including Bond Street, Regent Street, Jermyn Street and much of Oxford Street. Property prices are among the highest in London and the world - which adds to the area's exclusive feel. Important buildings in Mayfair include the Royal Academy of Arts, the Grosvenor House Hotel, Claridge's, The Dorchester and the US Embassy in Grosvenor Square and Harrods. A visit to Mayfair is a must for anyone travelling to London, put aside the glitz and the glam, Mayfair is a great area for nightlife, dinning and great entertainment.
Accommodation in Mayfair
Accommodation in Mayfair Mayfair has a great selection of hotel and guest house accommodation available to visitors, but prices can get a little high during peak seasons. Check out Wimud's apartment rentals in the area. We have long and short term holiday apartments, studio apartments as well as beautiful guest house accommodation available to suit all types of travellers and budgets. Whatever your needs Wimdu has you covered. Our chic Mayfair studios are perfect or a short break in the heart of London.
Fun Facts!
The Egyptian sculpture above the door of Sotheby's in Mayfair is the oldest man-made object in London dating from 1600 BC
The guitarist Jimi Hendrix lived next door to George Frideric Handel, the famous composer, at No.25 Brook Street in Mayfair
Mama Cass and Keith Moon died in the same room in flat 12, 9 Curzon Street Mayfair (though not at the same time).
The first escalator in London was installed in the Harrods store in 1878.
Things to Do and See
One thing is for sure you will never be bored while in Mayfair. The district has a wealth of culture and history all within walking distance! Lovers of fine art and history are spoilt for choice in this district, the Royal Academy along with world renowned galleries are located in Mayfair's Cork street. People come from all over the world to view art that are on show in these up-market galleries. After, take a stroll to the home of the Duke of Wellington, who resides not far from Cork Street! For all you shopaholics out there, Mayfair is heaven! The glittering shops on Bond Street, Regent Street, South Moulton Street and Piccadilly, are all within walking distance no matter where you are in the district. You can shop till you drop while you run from one store to the next, and if that is not enough for you, then don't forget to visit the Harrods, a department store where you can buy anything from a winter jackets to a real live elephant! Harrods has established itself as a world-class luxury shopping destination and even though it's a stand-alone department store, it is the only one in the world to hit £1billion in sales in a year!
Mayfair is also for it's great museums, such as the world renowned Handel House Museum, the Institute of Contemporary Arts and Apsley House. Spend a few hours soaking up the wealth of knowledge and history in these museums. Visiting exhibitions are displayed regularly in the museums, so make sure to check out what is on during your stay. One of our favourite things to do when in Mayfair is to take a stroll around the streets and parks. St. James Park located on the edge of Mayfair and covering 58 acres is a tranquil place. Simply relax in a deckchair and watch the world go by. The flower beds and shrubberies are enjoyed by visitors all the year round. The park has a lake harbouring ducks, geese and pelicans. On the other side of Mayfair, Hyde Park is located. Hyde Park was created to satisfy a royal passion for hunting. But over the years it became a place where people have pursued many other pleasures such as tai chi and yoga which is performed there on a regular basis along with tennis courts and sports grounds. Hyde park is definitely worth a visit, when the weather is good, you could spend all day in the park!
Where to Eat and Drink
As a playground of the wealthy, Mayfair has more than its fair share of amazing restaurants. Cuisines range from Asian to British and everything in between, really, it's hard to go wrong when eating out in Mayfair. Some of our favourite places include Princess Garden, a long time specialist in northern Chinese cuisine and Hélène Darroze an excellent French restaurant. The restaurant itself is set in a historic dining room, with beautiful wood panelling and floral plasterwork ceiling.
Night life in Mayfair is filled with glamour and sophistication. Those who wish to take their club nights to another level, seek out the elite and cultured vibes of Mayfair clubs. Annabel's Club is one of Mayfair's top clubs, popular with a galaxy of stars including Kate Moss. Annabel's is also the only club the Queen has ever visited! Baroque is another one of our favourites, found in the Playboy Club, this sophisticated bar and club is great for a stylish night out. Keep your eyes out for a bunny or two!